Arrived in Boulder
Well, pretty much 1/2 my road trip is finished. Drove from SLC to Laramie yesterday, had dinner with Isobel & Brett, then drove from Laramie to Boulder, a quick drive, and back to urban life. Tired but I've got plenty of time to rest before arriving in Denver on Sunday for the start of the DNC, where I will wear two badges. They decided I was a blogger after all, and I am credentialed press.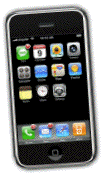 Meanwhile my iPhone crapped out, it says it has no SIM card. Restarting it made it work, for a while, now it doesn't work at all. I'm going to the Apple store in Boulder this evening to see if they can help.
Meanwhile I'm thinking that since I have Sprint EVDO, I could get a deal from them on a cell phone. Anyone have any ideas about that? The EVDO has been working nicely since I reinstalled the software on the Asus, and I've even been getting used to the keyboard. The big question is will I be able to blog the convention with just the Asus, without having to lug around the 17-inch MacBook Pro. The only potential reason not is the keyboard. And it's not a problem if I'm mostly going to do video and pictures, which seems to be my favorite mode these days. That and FriendFeed/Twitter.
BTW, people who have been trying to call me and can't get through, send me an email and I'll call you back if I'm near a phone. Life with a broken iPhone, esp just before a major schmoozing event, not fluid.
I wonder how this convention will differ from the 2004 convention in Boston. I had a lot of fun there, it was the event that launched podcasting to a whole new level. I'll probably remember more about that convention as I go through the routine again this year. I know I'll look for the press room sooner this year than I did last year. As much as I love being a blogger, the reporters covering the convention have interesting stuff to talk about too, and it's different.
Thinking about taking a different route back to the Bay Area.
Last update: Friday, August 22, 2008 at 6:52 PM Pacific.
---

Dave Winer, 53, pioneered the development of weblogs, syndication (RSS), podcasting, outlining, and web content management software; former contributing editor at Wired Magazine, research fellow at Harvard Law School, entrepreneur, and investor in web media companies. A native New Yorker, he received a Master's in Computer Science from the University of Wisconsin, a Bachelor's in Mathematics from Tulane University and currently lives in Berkeley, California.
"The protoblogger." - NY Times.
"The father of modern-day content distribution." - PC World.
One of BusinessWeek's 25 Most Influential People on the Web.
"Helped popularize blogging, podcasting and RSS." - Time.
"The father of blogging and RSS." - BBC.
"RSS was born in 1997 out of the confluence of Dave Winer's 'Really Simple Syndication' technology, used to push out blog updates, and Netscape's 'Rich Site Summary', which allowed users to create custom Netscape home pages with regularly updated data flows." - Tim O'Reilly.
Dave Winer

My most recent trivia on Twitter.
On This Day In: 2007 2006 2005 2004 2003 2002 2001 2000 1999 1998 1997.
Jul Sep
Things to revisit:
Teller: "To discover is not merely to encounter, but to comprehend and reveal, to apprehend something new and true and deliver it to the world."