Spore
I bought Will Wright's new simulation, Spore, before I knew anything about the DRM. I haven't installed it yet, not sure if I will. I got fairly addicted to The Sims, but ended up buying it several times because the DRM kept failing.
I wonder if Electronic Arts is aware of how many idiots like me end up buying the product more than once because they want to use the software on another computer, or a disk crashes, or a key disk stops working or you switch from Windows to Mac or some other system.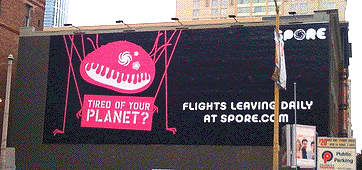 Just read a TorrentFreak piece saying it's being widely pirated because of the DRM. I have doubts, but I haven't decided yet whether I will actually install my legally purchased copy. I wonder how Will Wright feels about that -- he went to all the trouble to make this product, and people who pay for it won't use it.
Why iPhone is an ureliable platform
I wouldn't invest in or develop an iPhone app because Apple could decide not to approve it, and if they don't approve it you can't sell it. You can't even give it away. You don't find out if you've been approved until the last step, after you've fully invested, so you could lose, totally, if Apple says no.
At first this might have seemed ridiculous if you didn't know Apple, you might assume they'd only keep out apps that somehow damaged the iPhone, but it hasn't turned out that way.
Yesterday it came out that they rejected an app called Podcaster because it competed with iTunes, an Apple product. Maybe it was better than iTunes in some way, or simpler, more focused, had features iTunes didn't have? It doesn't matter, it illustrates exactly why Apple shouldn't assume this power, or if they insisit on it, you'd have to be crazy to develop iPhone apps.
Consider this possibility. Next year Apple announces an app that does what your previously authorized iPhone app does. You have competition, so another competitor, even if it is the platform vendor, isn't that big a deal, right? Well what if they de-authorize your app because it duplicates functionality of theirs? Think you could live with that?

The same thing came up less clearly at BearHugCamp yesterday when the Twitter guys stood up and let us try to pin them down on when they were going to re-open the XMPP gateway. If features come and go from platforms, if policies change in unpredictable ways, there's no way you can invest. If someone had built on the XMPP capability previously and it had been turned off (this is a hypothetical, it didn't happen that way) what recourse would they have had? Because Twitter has been such a moving target this last year, many of the apps have fallen off, because they depend on features in Twitter that have become unreliable or have disappeared altogether.
Thirteen years ago I wrote a piece entitled What is a Platform? Perhaps it should be amended to say that if you need the approval of the platform vendor to ship an app, then it isn't a platform. It's an integrity thing. The idea that it's a platform should mean no individual or company has the power to turn you off.
In the same timeframe I marveled at how the Internet is the platform without a platform vendor. That's the most powerful kind of platform there is because it is the least regulated.
Do McC's war injuries prevent him from using a computer?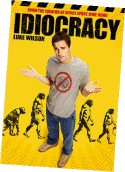 Yesterday Obama ran an ad that said that McCain is so out of touch that he doesn't even use a computer. Immediately the right wing idiots came back with the charge, as if they care, that Obama is being ageist, but that's ridiculous, I know plenty of people McCain's age who use the Internet. My father, who is 79 says he wished the Internet had been around when his father was his age, he thinks he would have liked it. I knew my grandfather and I'm sure he's right (here's a picture of me as a child having a laugh with him).
So to say old people don't use computers is to not only ageist but ignorant -- as ignorant as a person who would be our President who doesn't in 2008 know how to use the Internet for crying out loud! It would be like reaching the age of 44 having only been outside the US twice, and one of those trips being to Canada. You know people outside the US say they like Americans it's just our government they hate. I keep telling them they don't know Americans, only 12 percent of us have passports. Ladies and gentlemen of the world, I present you our most embarassing choice for vice-president in my lifetime (and that's saying a lot!), a person who doesn't know shit about the world she lives in. One can only hope the Republicans step in soon and put a stop to this idiocracy.
Anyway...

Now the idiot right-wing bloggers have a new paranoid theory to cling to -- maybe McCain can't use a computer because of his war injuries. I have a different theory. He doesn't use the Internet for the same reason he doesn't understand economics and the same reason he thinks we could stay in Iraq for 100 years -- because he's a dumb, lazy and ignorant rich kid and has the curiosity of a bowl of oatmeal. And if it were true we would have heard from them on this already, and the only voices on this one would not be the pajama-wearing nutcases of the right. We'd be hearing from the lying suit-wearing lobbyist bastards running McCain's campaign, or the lying bastard John McCain himself.
Look, there's a limit to how much mileage you can get from this war hero crap. Yadda yadda the Democrats honor his service, and blah blah blah he's a good man who loves his country. I say bullshit. He's a creepy bastard liar coward who, if he becomes President, we're really in for a ride. And if he gets elected let's get him some great doctors so he doesn't die in office and leave us with the hockey mom pit bull with lipstick who doesn't blink or travel or know any heads of state, as President.
I'm Dave Winer and I approved this message. (And I'm not running for anything so don't vote for me.)
PS: Try searching for quadriplegic and computers. It's a hint. Amazing progress has been made in making computers accessible to people with disabilities. Seriously.