Get Susan Collins on the record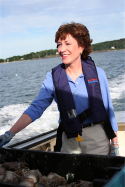 I had an idea while walking to the Hillside Club today. I was listening to a Nightline from last week, they were interviewing Susan Collins, one of two Republican senators from Maine (both are women, btw). She was talking about off-shore drilling and explaining why, even though there might be oil off the shore of Maine, they wouldn't support drilling because fishing off the coast is a huge part of their economy. Then they got around to Sarah Palin and she said Palin was a great choice, and how she had energized the Republican Party. I found this shocking. (Here's the clip.)
Then I realized it was an old podcast and she hadn't had a chance to see the Couric interview with Palin yet and wondered how she'd react if she had. I imagined that Collins, who is an intelligent, thoughtful and fairly liberal Republican, probably would find it offensive, and would be scared on behalf of the country as many of us are. So I wondered how we could get her on the record. My guess is she'd try like hell not to get asked that question.
Then I thought of a way to drag her into it, and I think we should do something about it.
First, let me tell you that my friend Andrew Baron did the mashup with Miss Teen USA and Sarah Palin and it's become a viral hit on YouTube. So we have flow to play with.
Imagine a split screen and on the left is Palin and on the right is Collins. For 30 seconds Collins is speaking. Then for 30 seconds Palin speaks. That's all. Compare the two. Ask a question -- why didn't the Republicans choose Collins?
The next day do the same thing with Christie Todd Whitman.
Then Kay Bailey Hutchinson.
Get the idea. Keep going with intelligent, thoughtful, well-spoken Republican women. Then throw in a few men like Tom Ridge or Mitt Romney.
Now here comes the fun part. Citizen journalists in Maine should try to get an interview with Collins, on camera, about Palin. Go where she goes, like the press does, and just ask. Eventually you'll get some good footage and we'll run it on the Palin Channel on YouTube.
Everywhere there's a Republican, ask them about Palin and how prepared she is to be Commander In Chief or Economist In Chief. Make her issue #1. The Republicans will keep trying to bury the Palin issue, but we should keep digging it up!
What do you think??
Congress should ratify the Paulson plan as-is

It seems today is the day when everyone is putting their stake in the ground, so I thought since I have a blog, and a stake, I should put my two cents in too.
First, when people ask why should we the people bail out Wall Street when they caused the problem in the first place? Well, they did, but so did the rest of us. If you took out a second mortgage to pay living expenses or to buy luxury, you were living high on the real estate bubble, you caused the problem too, and we're bailing you out. Might as well start placing responsibility where it really belongs, and take some yourself.
Second, I know these Republicans are dicks, and they lied about the pretense for war, and just yesterday they admitted to discussing torture in The White House (which is worse than what Bill Clinton did in the White House). There's no reason to trust them, but I've weighed all the evidence and decided, again, we don't have a choice but to believe them. It might all be a scam again, but it probably isn't.
Third, this isn't a moral thing -- if it were, we would let everyone fail so they can learn their lesson and pass down the lessons so it doesn't happen again. But right now it's a question of what's a good use of our money. And there seems to be no choice about that, if you trust Warren Buffet, and I don't see any reason not to.
NY Daily News: "Warren Buffett urged quick action and compared the current crisis to Pearl Harbor."
Now, is it really all that much money? I don't think so...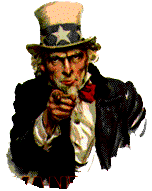 If you average the $700 billion over the population it's somewhere between $2K and $10K per (depending on whether you count people or households). So let's figure this one out. If there's a market crash on Monday, and if the credit crisis is real, you might lose your job, or your savings, or both. Most people are still in their houses, you might lose your house. You have kids who want to go to college, etc, etc. Are you willing to put down $10K to make sure that doesn't happen? You may come to a different conclusion, but I'd be willing to pay ten times that to make sure we don't have an economic collapse.
About all the michegas they want to tack on to the proposal -- come on get real! None of that is going to make a difference. It's all the same old shit, it'll go to the same industries that always get our handouts, we won't see any of it. Don't delay the whole thing and take a chance on a crash for something with zero upside.
That's how I see it. We'll find out, I suppose, who is right.
An aside: It's not surprising that we failed to remember the lessons of the Great Depression and gradually removed the regulations that were put in place after the financial collapse of 1929. What is amazing is that we also failed to learn the lessons of Vietnam, which happened to the generation in power when the decision was made to go to war in Iraq. I guess the economic regulations worked for a while. Maybe we should pass some new laws regulating war.