Reverse robo-calling tomorrow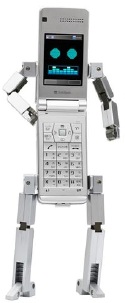 The Republican Party and the McCain campaign are saying some really awful things about Barack Obama in robo-calls in battleground states. It's strange and remarkably honest of them to self-identify, given that everything else they say is a lie. They even provide their phone number.
So tomorrow I'm going to call the Republicans and tell them, politely and honestly, how I feel about them bothering people at home with lies about Obama. I'm going to call them at 202-863-8502. This is the exact opposite of what they're doing. I'm a real person, not a robot, and instead of lying I will tell the truth.
If you want to help the Republicans straighten their act out you can call them too. I'd wait until their office opens tomorrow, though, all the voicemail boxes seem to be full at this time.
Just bought an MSI
Well, I decided it was time to upgrade my netbook act, and I plunked down the money for an MSI Wind U100-279US at a place called JustNetbooks.com.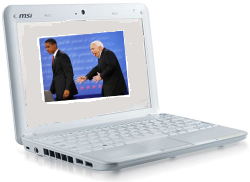 Apparently they do their fulfillment with Amazon, I paid through Amazon, got cheap 1-day shipping (fingers crossed) for $3.99 because I'm an Amazon Prime member. Hopefully it'll be here tomorrow so I can start setting it up before my next road trip.
This looks to be an improvement over the Asus, which if all goes well I'll turn into a server.
BTW, I had a thought, wouldn't it be great if Apple sold netbooks, even though they aren't making them, at Apple stores? They sell printers made by other companies. When they finally get around to making an Apple-branded netbook they could kick out the other brands. It would be nice to be able to impulse-buy one of these babies locally.
Update: You can buy an Asus at BestBuy for $299.
Update: Apple contracts out design and manufacturing?
FreshAir cracks Sarah Palin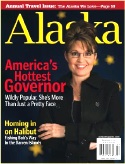 It's amazing that Sarah Palin, would-be VP to a 72-year-old cancer survivor asks Who Barack Obama Really Is? and yet we know almost nothing about her. More than amazing, isn't it imprudent?
Well, they cracked the nut on FreshAir, inviting Michael Carey, a former editor of the Anchorage Daily News to a 40-minute interview. He answered a lot of the outstanding questions about Sarah Palin. Highly recommended.
Fresh Air: Sarah Palin, A View From Anchorage.
It's not too late to ask who this would-be VP is. And if you believe Obama, and I do, there's no reason to assume she will not be elected on November 4.
Ev is Twitter's new CEO
This is a surprise!
Not sure exactly what to think.
W movie party in Berkeley
Let's play hookie tomorrow and see the W opening at California Theaters on Kittridge at 4:05PM. We can go out and get a bite to eat after. If you'd like to participate sign up on this Upcoming page.
http://upcoming.yahoo.com/event/1237753/
Is this what they meant?
Is this what they meant by Let McCain Be McCain?
Tools that build on Netflix API?
A few weeks ago Netflix announced an API.
Following up -- is anyone aware of tools that build on the API? I'm specifically interested in tools that can be used to extract my reviews data into XML so I can use it in other applications.