Maybe the best political ad ever
Twitter does have track
Steve Gillmor has been saying that Twitter doesn't have track for quite some time, and for some of that time he was correct, but it's been bothering me for a while because I don't think he's correct now. Hopefully I won't look too stupid if I don't understand all the subleties of tracking Twitter topics.
Enough caveats? I hope so.
Anyway...
Suppose I want to track all conversations about Obama on Twitter?
1. Go to the search page.
2. Enter "Obama" (leave out the quotes).
3. Click on Search.
4. Wait.
5. A few seconds later it will say something like this: "58 more results since you started searching. Refresh to see them." When you refresh, sure enough there are the 58 results. (Those were the ones that appeared while I was writing this blog post.)
Now maybe that's not what Track does, if so I'm stupid.
How will Twitter make money?

Imho, asking how Twitter will make money is not a dumb question. It's not a sporting thing, not idle conversation. I don't think people are saying Twitter won't find a way to make money, rather expecting that how they make money will change the way Twitter works, probably not an improvement.
The investors in Twitter, I think, like most tech investors, lack the perspective of a user. Here's the key point, we feel like we're investors too. We're putting our time into developing the service, when people sign up to Twitter because I urge them to, or stay there because I pour my time into it, I wonder where that investment will go when the people who control the service (Fred, Bijan, Ev, Jack, Biz, et al) change it so they can make money.
There's an uneasy feeling that when we see how it works, we aren't going to like it.
That's why the question keeps coming up, imho.
I have a preference. I'd like to be able to pay Twitter a monthly fee to opt out of however they decide to commercialize it. I think that's the honorable way to transition from a free approach (the current one) to a money-making approach.
A very short review of W
I went to see the 4:05PM showing of W at the California Theater on Kitteridge in Berkeley, and well, it was a nice movie, but I never really got into the plot. It could be I know too much about the actual story, like having read the book before seeing the movie.
It is sympathetic to both Bush presidents, who were the main characters. Like the other Oliver Stone movie about a President, you're left wondering what would have been different if the son felt loved by his father (with Nixon it was bigger, we were asked to wonder what if anyone had loved him).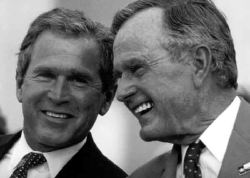 You can't help but get a big crush on Laura Bush, the Democrat librarian who (according to the movie) really does love Dubya (she calls him Bushie).
The White House fools are like cartoon characters. You'll laugh out loud at the portrayals of Rumsfeld, Rice, Rove, Cheney, but they all came off as weakly played arch enemies of Batman or Superman. Or a SNL parody.
I was hoping for a great Oliver Stone movie. Any Given Sunday is one of my all-time favorites, but this one never draws you into anything like a plot, there's zero suspension of disbelief. It was interesting as a spectacle, nothing more.