Evolution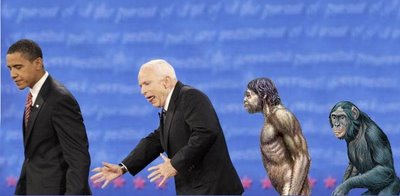 A second look at MSI Wind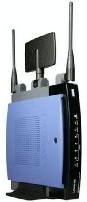 Since today is a day of second looks, I've decided to hold on to the MSI Wind for a few more days. I have 30 days to return it, after all, so no hurry -- I guess.
The incompatibility is definitely with the Airport Extreme. After reporting that, I've gotten lots of clues from people here and on Twitter that indicate that there are serious compatibility issues with that router, I've even reported on one before with my Nokia N800 handheld computer (which I never managed to get working with the Apple router).
So, I'm willing to try another 802.11N router, even though I gotta wonder why people who make WLAN adapters don't debug their issues with Apple's (imho very popular and well-designed) router.
I really like DLink USB hubs, do they make good routers too?
BTW, I did install the new drivers from the MSI site. I have the "RT2700E" hardware.
A second look at W.
Something Oliver Stone said about W. got me thinking.
"I really, in my heart, think that this guy's policies are going to be around for a long time. And my grandchildren are going to be talking about this guy Bush like the way they talk about Teddy Roosevelt, the way they talk about Lincoln, the way they talk about Washington. I think he's had monumental impact on the future of this country."
Weird. I wonder what he means. I don't think he's right, but he did get me thinking, as I said.
Even if W wasn't a great President, he did become President and that's not easy to do as so many can testify. What he had down, what he knew how to do, was how to get elected President. Because:
1. He has good genes, no matter how dumb you may think he is, he isn't.
2. He was deeply involved with his father's losing 1992 campaign (not just according to Stone).
3. He loved his father and sought his approval, as all sons do, but didn't feel the love coming back.
So he did what he knew how to do, arranged it so he would run for President. After winning, he had no clue how to be President or even what it meant. I bet his father didn't take him into his confidence when he was in office. And while his father wasn't a great campaigner, he did really know to be President, he had been around the office for 20 years before he occupied it, as did many of the people he brought in with him.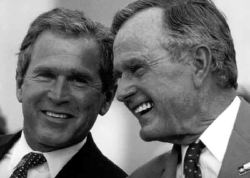 Another observation, some based on intuition, and other parts based on observation of the 2008 campaign. While Bush II probably couldn't have done it without Karl Rove, it seems equally true that Rove needed Bush to win. But Rove may have found his new protege, who's getting broken in on the campaign trial, Sarah Palin, as Bush II was broken in by his father. That's the nightmare waiting for us should Obama win, which of course is nothing compared to the nightmare that awaits us if he loses.
If the Republicans lose
Upfront caveat: I'm not willing to say "When the Republicans lose" but I am hoping I get to say "When the Republicans lost."
So if the Republicans lose on November 4, they will have to make a much more serious transition than they think they'll have to.
They've been winning elections by saying nonsense things to the electorate, things that are precisely true, even though they know damned well that when the people hear them on TV or via email or word of mouth, they're hearing something different from the precisely true things they say. And lately they haven't even been worrying about the line between true and false. They say things like Palin was exonerated in Troopergate, when the exact opposite is true, she was indicted.
Now the "elite" -- people who know how to read and bother to, know this is what's going on. The Repubs didn't care because they could blow by our opinion of them, and as long as they were winning, what could we do about it?
Now it seems the Republicans may actually lose, and if they do, here's the change: If they want to get heard, they're going to have to stick to arguments that are based on what's actually going on.
I know -- it's tough.