CradlePoint PHS300 first look
The new router arrived this evening, I charged it up, followed the minimal instructions, and it worked the first time. I'm using the router now to write this blog post.
I'll have unboxing pictures soon, but first the speed test.
speedtest.net thinks I'm in Kansas City, MO.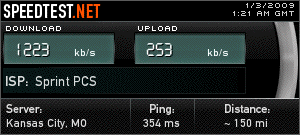 People ask why I lusted for this and the answer is the same reason I want one of these. A 3G battery-operated router that fits in a coat pocket, or a pocket on a knapsack, or in the glove box of a car -- very rational idea. A perfect fit for netbooks, and you know how ga-ga I am over those. For a while it looked like netbook "service plans" were going to catch on, hence the $99 netbook meme, but this is smarter. Why should the netbook have the service plan -- instead I'll use the USB modem I already have, plug it into the CradlePoint, and get on the net using wifi, which all netbooks already have. It's still a little klunkier than the Novatel approach, but this one is shipping, and it's pretty close.
If they had gotten this to me before Thursday I would have said this is the most rational product of the year for 2008, also the one that makes me the most giddy with a living-in-the-future feeling, right up there with the Eee PC. It would be hard to choose between the two. Wish I had had this at the DNC in Denver.
It has a very nice browser-based config system, so there's a web server built into the router. Screen shot of the Dynamic DNS config page.
Here's the set of unboxing pictures.
MediaWiki API, day 2
I've been slow to get to start work on the MediaWiki API.
But today I took the first step, to find out that it is possible to turn off the API, and that the test wikis people have been kind enough to let me play with have it turned off. (It defaults on.)
So to get started I'm going to need a wiki that has its API turned on. Here's a page that explains what's needed. It looks like Perl to me, it's probably easy for a Perl guy to futz with this, but I don't want to hack anyone's server. I want to stay strictly on the workstation side.
I promise to share what I learn programming the wiki once I get the ball rolling.
NewEgg is hard to get on the phone

I ordered a gadget from NewEgg on December 26, guaranteed 3 day UPS. Today's the day it's supposed to arrive, and I was totally looking forward, but UPS says: THE RECEIVER REQUESTED A HOLD FOR A FUTURE DELIVERY DATE. UPS WILL ATTEMPT DELIVERY ON DATE REQUESTED / DELIVERY RESCHEDULED[X]. That's really funny cause I'm the receiver and I sure didn't request a "hold for a future delivery." Oy.
So now I'm on hold on chat to get an answer from NewEgg, since there's absolutely no way to get to a human on UPS. I figure since NewEgg has my money, they should be able to help me figure out what this means. Stay tuned.
Of course their answer is to call UPS. Don't you love it when a vendor takes responsibility. (Not.)
So NewEgg was no help, so I tried calling UPS for a second time, and this time I said "Representative" repeatedly to every prompt. And it worked. I got to talk to a human being. Maybe it's actually on the truck she said, but they're going to call me from San Pablo at noon to let me know what's going on. Stay tuned.
Then I got an email from the NewEgg rep, who I had suggested should call UPS instead of me doing it, and guess what -- she did it! Amazing. Maybe there's hope. She said the UPS website was mistaken and the package is on the truck out for delivery and I should get it today. Maybe 2009 will be a great year. Stay tuned.
BTW, I gave the NewEgg rep a link to this blog post so there's a chance they may read this or comment.