InBerkeley on Twitter
Latest news -- we were about to get a Charles Hotel, run by the same people who run the Charles in Cambridge -- a truly classy hotel (a great place to wait out a snow storm). At the same time I found out about it, I found it's been cancelled. Oy! It's almost too much to bear.
Lots of new posts on InBerkeley and now you can follow us on Twitter, and never miss an update. I'm having so much fun with this project.
I just posted some pictures from my evening walk. Lately we've been showing newly vacant storefronts. In this walk I show two recently empty stores that have new businesses. One a new restaurant and the other new Internet cafe. Berkeley has plenty of both, but imho there's always room for more. Both are at the intersection of Cedar and Shattuck.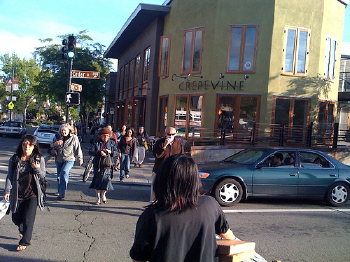 Also walked through the North Berkeley farmers market. Every Thursday, "all year round, rain or shine."
Everyone should start a hyperlocal site. It'll give you fresh eyes for: 1. Blogging and 2. The place you live.
How to modify RSS
From time to time I get requests from developers who want to modify RSS so it can do something that wasn't forseen when the spec was frozen in 2002. Here's what I wrote to a developer who asked about that today (the specifics are xxx'd out).
Hi xxx -- I think it's a great idea to integrate xxx and RSS.
However.. I don't know enough about xxx to understand the substance of what you want to do.
You can add all the information you want to a feed by defining a namespace or by creating a new format called something other than RSS that shares its properties and adds anything you want, or for that matter, changes anything you want.
RSS 2.0 has been frozen since 2002, and that's absolute. It was necessary to do that to keep it from becoming a moving target. Lots of people had ideas for adapting RSS to their own projects, and that's supported through the two mechanisms I outlined above.
Dave
The Facebook Saturday night masacree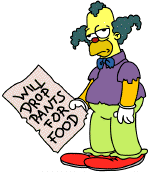 I admit to being confused by the event that Facebook has planned for Saturday Friday.
According to the Sydney Morning Herald: "At 2PM on Saturday, the social networking site will allow members to register their own user names to make it easier for others to find their pages."
That's 9PM Saturday Friday here in Calif, btw.
What does it mean? Well, I'm sure I won't get dave or davew and there's a fair chance another davewiner will beat me to it. That means I'll have to go for one of my nicknames.
Why don't I have a chance at dave? Well, they're doing the usual Silicon Valley user generated content thing -- playing favorites. According to TechCrunch they're favoring journalists they "work with." Oy. Should we read that as "Journalists who write stories we like?" As if journalists need another reason for readers not to trust them.
But the thing that strikes me as weirdest of all is that after years of insisting that people only use their real names on Facebook, they've now set up a system where it will be virtually impossible for most people to do that, even if they want to.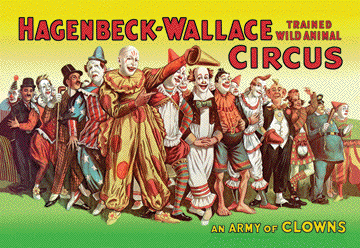 If I cared more about Facebook, I'd have more to say about this.
I wish this period of the Internet would end, it's so exactly like AOL. I've seen this show before, I know how it ends. Only this time there won't be a Time-Warner to cash them out.
PS: Read Anil Dash's hilarious takedown of this mini-debacle.
PPS: For some reason Zuckerberg seems like a modern-day P.T. Barnum. You and me, we're either trained seals (the reporters) or fleas (users) in his three-ring circus.