What is the real-time web?
Four words: It Happens Without Waiting.
Narrative: Today I wrote a piece about the Berkeley Public Library on InBerkeley.Com. I wanted to find a pointer to the library website, so I switched over to Google. Looked up Berkeley Public Library. My piece, publshed less than a minute earlier. was the first item. Real-time web. (True story.)
The SUL as a tool to control news?
SUL is Twitter's Suggested Users List.
It's a group of approximately 500 Twitter users who are "suggested" to new users when they create an account. The stated purpose is to provide people to watch when you're starting out. But are there other purposes? Could it be used to reward positive coverage and punish negative coverage? I think we now have some data on that.
There's no doubt that Twitter has received a lot of help from the press, and much of it is genuine enthusiasm for a communication tool that at least hints at the future of news.
Many of the suggested users are news organizations, reporters, columnists, marketers, and as a result, most have over a million followers. Almost all of the top tech news organizations are on the list. And TechCrunch was one of them until something happened in July as is evident in this TwitterCounter graph.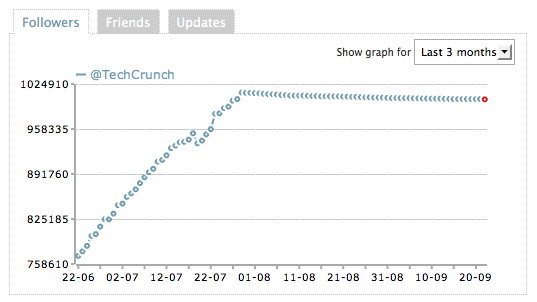 Compare this to the graph for Mashable, over the same period.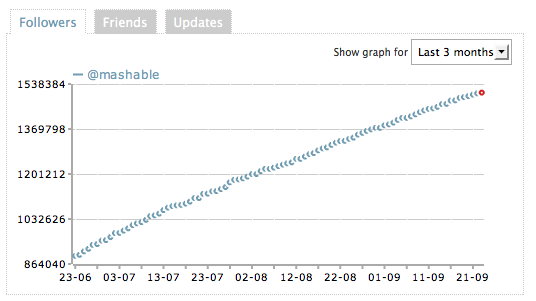 And plotted on the same graph.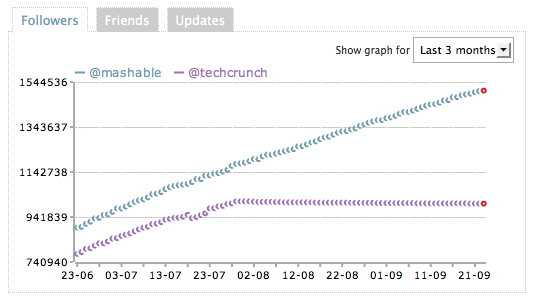 It's pretty clear something happened in July.
We know this much -- TechCrunch was dropped from the Suggested User List, right around the time their follower count started heading down. As to why, we can only speculate that it was because they ran a piece that Twitter didn't like.
7/16/09: Twitter's Internal Strategy Laid Bare: To Be "The Pulse Of The Planet."
People have always questioned whether there was a connection between being on the list and not being too critical of Twitter. At this point, there isn't much doubt that the connection is there.
Last update: Tuesday, September 22, 2009 at 4:16 PM Pacific.

Dave Winer, 54, pioneered the development of weblogs, syndication (RSS), podcasting, outlining, and web content management software; former contributing editor at Wired Magazine, research fellow at Harvard Law School, entrepreneur, and investor in web media companies. A native New Yorker, he received a Master's in Computer Science from the University of Wisconsin, a Bachelor's in Mathematics from Tulane University and currently lives in Berkeley, California.
"The protoblogger." - NY Times.
"The father of modern-day content distribution." - PC World.
One of BusinessWeek's 25 Most Influential People on the Web.
"Helped popularize blogging, podcasting and RSS." - Time.
"The father of blogging and RSS." - BBC.
"RSS was born in 1997 out of the confluence of Dave Winer's 'Really Simple Syndication' technology, used to push out blog updates, and Netscape's 'Rich Site Summary', which allowed users to create custom Netscape home pages with regularly updated data flows." - Tim O'Reilly.
Dave Winer

My most recent trivia on Twitter.
On This Day In: 2008 2007 2006 2005 2004 2003 2002 2001 2000 1999 1998 1997.
Aug Oct