Why Flickr should do realtime RSS
1. Flickr comes from Yahoo.
2. Yahoo used to be a source of innovation.
3. Twitter defines realtime.
4. Twitter doesn't do pictures.
5. Flickr is all about pictures.
6. Flickr already supports RSS, nicely.
7. RSS lets anyone play realtime.
8. Flickr gets to do it more openly than Twitter.
9. With pictures.
10. It's innovative and new and interesting and pretty easy. (But not trivial.)
11. A way for Yahoo to do something useful, interesting and innovative.
12. An example of a realtime photo feed. Note the use of Yahoo's Media-RSS extension.
Reboot the News at ONA09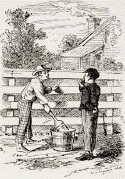 Jay and I decided we wanted to do a live podcast at ONA09 so much we rented our own room. And it's open to the public, even if you're not going to ONA09.
Here's the deal. Come to the SF Hilton at 4PM on Saturday and look for "Rebooting The News" on the TV screen in the lobby. Or you can follow me or Jay on Twitter, we'll certainly advertise our location. Be sure to be there before 4:10PM. We'll all sit around a conference room table and reboot the news.
No punditry, or savvy church-goers, just talk about how the news will work after the new system is fully rebooted.
Flying cross-country
I'm flying today from JFK to SFO.
Trying something new, taking pictures as we go, as cloud cover permits, and uploading them in realtime.
I have enough people in my loop so that almost anywhere I post a picture of, someone is in the the picture, and a few people can tell me exactly where it is. I learned this on the west-east trip last week, when I took a picture in the middle of Colorado that turned out to be in Ouray County near Telluride. I've been there! Beaufiful country.
Here's the Flickr set of pics taken today.
Realtime interactive social media. Whatever you call it, it's really coool.
Two proposed rssCloud additions
On Tuesday I outlined the next steps on two proposed changes to the rssCloud walkthrough document.
I plan to implement these changes shortly. Joseph Scott of Wordpress, who proposed the second change, has said he will also implement them in his software.
Also see the short-term roadmap I posted last Friday.