Innovating outside the 140

I pitched a simple idea at yesterday's GigaOm meetup, one that is easy to explain verbally but I've not yet attempted to explain it in writing. So here goes.
When the Mac came out in 1984 it had a file system that worked much like a Unix or PC file system, it was hierarchic, had volumes, folders and files. But files had two "forks:" 1. Data and 2. Resource. The data fork was like a regular file, but the resource fork was really cool and different. It was like a file system within a file, but not quite.
Resources had a type and an id. The type was a four-character string, and the ID was a number. There were standard system types like WIND and MENU, and in them you put designs for windows and menus. There was a resource editor that shipped with the OS that had tools for the standard system types, the menu editor let you add a command to a menu or delete a command. The window editor let you set the default size of the window, its initial title, and what WDEF routine was responsible for drawing it. A big part of learning how to program the Mac was learning what all the resources were and how to set them up. Then you'd write C or Pascal code to open the windows or draw the menus.
But that wasn't all you could do with resources -- because -- and this is the key point -- you could define your own resources. You didn't have to get anyone's permission (okay theoretically you did, but we never bothered). So if I wanted to write a DAVE resource to my file I could. And then I could tell you what a DAVE resource contains and your app could read and write them, and all of a sudden we've just enhanced the platform. Pretty cool! And we did this kind of stuff all the time.
So why shouldn't tweets also have resource forks? Then if I wanted to attach a picture to a tweet I'd just pack it up in a blob and shoot it up to Twitter as part of a PICT resource along with the 140 characters which would then be a description for the picture. Or why not have a menu go with a tweet? Or a bit of HTML? Or whatever the fuck.
This would get Ev and Biz out of the loop, they could just kick back and run a storage system and stop worrying about what features to add to the platform. You see the users get to innovate inside the 140 characters, but there would be so much more action if the developers could innovate outside the 140.
Random Tuesday notes
Good morning. Getting back to work after a half-day at a conference followed by a five-hour baseball game. The conference was at Om Malik's and was the first tech conference I'd been to since the disaster at Gnomedex in 2007. This one was much better. I got to talk with a number of people I'm working with on RSS-related projects, and met a few developers with interesting projects. Om gathers an interesting group, that's for sure. And the mood at Om's place is respectful and collegial. We got some work done. Nice.
I told Om I'd like to try out the flash conference idea at his new 2nd St office. Great location and a good size. So next time there's a rush to get people's ideas on some new tech development maybe we can get together to talk about it at Om's place.
The baseball game was the third in the ALCS between the Angels and the Yankees. I'm really liking the way the Angels are playing, and of course I'm always up for rooting against the other New York team.
There will be more baseball and I'm speaking at Jeff Pulver's 140 character conference next Tuesday, a week from today. It's in Los Angeles. I can invite the regulars at Scripting News as my guest, so if you'd like to come, send me an email or post a comment, and I'll send you a link that gets you free admission. Jeff was very kind to let us party on his dime in LA.
Meanwhile, two really interesting articles you all should read:
1. Wired: How Users Took Over Twitter.
2. Mediate: We Keep Finding Historically Significant Photos. Will Our Grandchildren?
The latter question was the punchline of yesterday's Rebooting The News podcast, which has yet to appear in the feed. The irony is that we could be doing a better job at archiving our thoughtstream, but we're actually doing a worse job. Our pictures, movies, recordings, thoughts have never been more ephemeral.
Yesterday at Om's we wasted (imho) a time talking about seredipity. The time could have been better used working on more mundane topics like maintaining a memory that lasts more than a year at a time. We love the latest and greatest stuff, but don't recognize the patterns, we've seen this before. It's like the recurring theme in BSG, it's happened before. But we threw out the archive! Oy gevilt.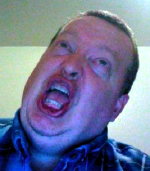 I refuse to solve the problem only for Scripting News, because I don't want future generations to think I was the only one writing in the early part of the 21st century. One of our bloggers is the next Ernest Hemingway or William Faulkner, Willa Cather or Emily Dickinson. Let's make sure we have their earliest emails, Flickr-ings and tweets.
BTW, this guy at Yahoo is surprisingly funny. I didn't know they were allowed to hire people with a sense of humor. Hate to say it, but I've never seen anyone at a big tech company, Microsoft, Google, Apple, Facebook or whatever that had a sense of humor. I have an idea, they should make being funny one of the requirements to work at the Bigs. Who knows the software might be more er uhhh you know -- fun.