What's the root list of Twitter?
My hard drive has a top level, it's called Macintosh HD.
On PCs it's C:
Yahoo's home page is the root of its directory.
Suppose you were going to design a list browser for Twitter, one that would allow you to hop from list to user to their lists to other users and their lists and on and on.
Where would you begin?
There is clearly no top to this thing. Which imho is good, the same as the web. There is no Home Page, no place everyone starts. It's why the web is open and democratic and without a bottleneck and has no gatekeeper to keep you out. Hat's off to TBL for designing it that way.
That still leaves me with the problem...
Rebooting the News moves
Beginning with this morning's show, at 9AM Pacific...
The site is moving to wordpress.com.
The feed should continue to work, but you may find that all the posts are new again now that the guids have changed.
The feed is located here now.
It seems that WordPress does a redirect, automatically from rss.xml (the old location) to the new one.
The editorial system should work a lot better, and I hope more interesting discussions will evolve from each show.
How Google got left behind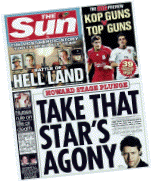 Suppose there's a topic you're interested in and you want to stay current on it. What tool would you use to do that?
That's at least part of the purpose of the whole push to "realtime" stuff. I've been writing about it since 1997, I called it Just-In-Time Search. Similar ideas, but not exactly.
When you search for friends you always get the same old pictures, because the search engine reports them in order of relevance. Perhaps there are newer pictures, but they're nowhere near the top, and it might not even consider them relevant enough to index.
We need a search engine whose primary axis is currency, that values news and images based on their newness, not by how many others are pointing to it. Google has News Alerts, but that's it. Their news system is geared toward big stories. I'm interested in the small stuff their search engine covers. There's news there too.
Update: A commenter says that Google does have time-based search. I'll check it out.