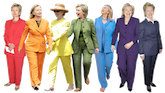 Sometime in the mid-1990s, I was driving on Santa Cruz Ave in Menlo Park. Listening to NPR. They were interviewing a woman. She was talking about education, health care, national politics. Deeply intelligent. She spoke clearly, and it wasn't the usual spin, she was telling the truth. A very rare commodity in my experience.
I wondered who it was.
I got to my destination, a supermarket on University Drive, and waited in the parking lot until they identified her. It was Hillary Clinton. I was surprised.
Until that point I had a negative opinion of her, as many people do today. I don't want to say what I thought, it's a case study in snap judgement, coming to conclusions based on appearance, gender, the voices in my head acting out a movie for my entertainment and distraction.
This isn't just about Clinton, or politics, it's a reminder to fact-check your impressions. Why do you feel that way about someone? How connected is the way you feel to who they really are?
The value of listening. Really hearing what someone is saying. Quieting the voices in my head rushing to judgement. Shhh. I'm busy listening.
There was a flaw in my process. I remembered that years later when I supported her opponent in 2008. Don't underestimate Hillary Clinton. She's not what she seems to be.
Why am I voting for Hillary Clinton on November 8?
I want that person I was listening to on the radio in 1995 to be thinking about what we can do better in the US and around the world, and empowered to lead us there.
She has my support. Even if her opponent weren't so grossly inadequate, I still would be supporting Hillary Clinton.