AutoWeb 1.0b6 Change Notes
File format change in 1.0b6
In AutoWeb 1.0b5 the first three lines of every source file were special. They contained the title of the piece, the author and the name of the icon.
In 1.0b6 we moved the special lines to a dialog box, and added more options: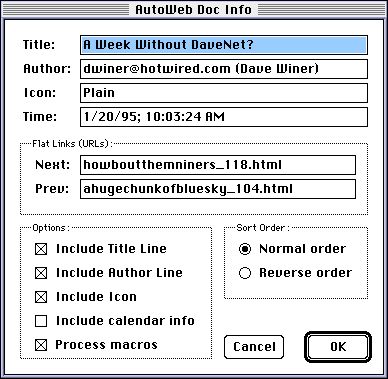 A new command in the Utilities menu, Convert Input Folder, automatically converts the files in your Input Folder to 1.0b6 format. If you did work with AutoWeb 1.0b5, run this script before using AutoWeb 1.0b6.
Next/Prev Links
Before rebuilding your site, choose the Set Next/Prev Links command in Little Script Editor to set up the Next and Prev links in all your Input Folder documents.
Lots of other changes...
The change notes have already been integrated with the AutoWeb docs.
---
-Surface Links-
Version Notes
AutoWeb 1.0 Docs
AutoWeb & Beyond
---
userland@hotwired.com
© copyright 1995 UserLand Software, Inc. All Rights Reserved.