I am the spokesperson, often, it seems, for people who Have Not on days when the Haves are partying.

Last year, I was irritated by all the Father's Day stuff. It was my first year without one.

I thought of it as if it were Play Catch Day in the US, and I was one of a small number of people without enough arms to play the game.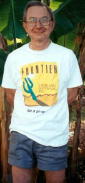 Only when it comes to missing fathers, there are lots of us. Lots of people for whom this day is a day of sadness. A day when we miss the person who fathered us. Even if he wasn't the kind of dad you played catch with.

The last time I saw my father, we both knew he was going to die soon. He was telling me stories about the past. How he taught me things as a kid, like how to kiss. I regret not letting my feelings show then, but it had been a long time since I had done that with him, a long time since I had shown vulnerability. Now I wonder what it would have been like. I wonder. I'll never know.

So if you're one of the lucky ones who have a father you can still talk with in the flesh, I envy you. I'd like nothing better than to spend another few hours with my father, just to say Hey what's happening. And tell him a few stories about what I'm doing and show him how my work with outlining is progressing. My dad loved outliners. I think that was the way we expressed our love for each other. Through a software product, if you can believe that. I guess that's better than nothing.