I find this piece very puzzling.

In it Richard MacManus, who started ReadWriteWeb as a Radio UserLand site in 2002, says that we will all continue to use Google Reader, so you can stop worrying. In response, I have to say I don't use Google Reader now, never have, and unless something miraculous happens I don't expect I ever will.

This situation reminds me of reporters who, in the early 90s, said the Mac was dead because there's no new software for the Mac. But when you talked to the same reporters at a cocktail party and said -- I know you use a Mac, and I know you're using new software, so why do you write that there's no new software for the Mac? They would say you're right, I do use a Mac and I do use new software, but I have to write that there is no new software for the Mac because that's what everyone says. It's a perverse situation where a reporter with integrity thinks they have to lie to the readers in order to maintain the integrity.

So everyone will continue to use Google Reader because everyone has always used Google Reader.

This is what happens to reporters. It's really sad. They go so invested in the way things are that they think it's the way it's always been and always will be. It's what happens when you've climbed a ladder, and don't want to think it's wobbly, or that someday it might completely fall down. But you can be sure of this. The people who made the changes in Google Reader are still in charge there. So what do you expect to come next?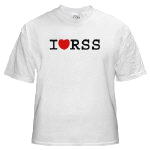 I know what I'm going to do. Continue to fix bugs in River2, and move it along in directions that help users get more out of RSS.

My product is my flow, my feed. And I don't particularly want people to read my stuff in an environment that isn't moving in a productive direction like Google Reader. I want to work with other developers who love RSS, and who want to give users more new features that make them soar, not take away features that they've come to depend on. That's a major step in the wrong direction. But for people like me, who want to keep innovating, it's actually good news.

People should know that there is more than one way to do an RSS reading app. Google Reader is one approach. A thousand flowers should bloom to fill the gap it's creating in the market. There is a way to do plumbing that's open, that people can subscribe to, independent of Google. That does what Google Reader just stopped doing. I would try to make it work as much as I could without inventing new formats.

Another approach is the river of news, which I personally think better models the way news works. You can run the software on your own machine. At home or in the cloud. Yes, it's still got some bugs, and thankfully now that Google is pulling back, I'm getting some much-needed help. With a little more help, from technical users, we can get it foolproof for everyone who installs it.

I love when people like Richard put awful ideas out there like the one he did. You're trapped inside Google's silo, even for something that was open from the start like RSS. Well I think there are a lot of people who are smart enough to know that that's not true. Those are the very people I want to work with.