As you may know, we're quickly putting together an NYU panel discussion for InternetWeek on my favorite subject -- Sources Go Direct.
It's next Wednesday, June 9 at 1PM at 20 Cooper Sq, 7th floor. It's part of the InternetWeek festivities.
We've already announced our first panelist, Nick Denton, the famous founder of Gawker Media. Now we're ready to announce the second.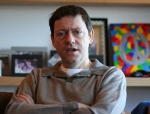 Fred Wilson is one of the shining examples of people who have something to say that didn't fit into the normal channels, so he invented a new one.
When Fred speaks at conferences he's usually asked to discuss business models in the tech industry. As one of our leading VCs and an early investor in Twitter, his opinion on business and tech is understandably sought-after. But on Wednesday that's not what we'll ask about with Fred.
Our focus is on the people who make news and add understanding to news. We're not interested in helping anyone survive, or helping anyone disrupt. We are interested in how people tell their stories in the new way of communicating. And Fred Wilson is, in every way, a pioneer and leader in the creation of this new way of doing things.
Tickets are free at Eventbrite. Seating is limited to 125 people. It will be live webcast on Ustream. I think you'll find this very different from other panels you've participated in -- the "audience" will be an active part of the discussion, but it will also be moderated to keep it on topic. The backchannel will be on Twitter (of course) and on IRC.
Stay tuned!

">

6/4/2010; 5:11:12 AM. .