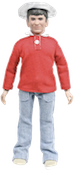 When the Repubs say that impeachment is just a way to undo the 2016 election, they overlook the 2018 election, which was most definitely an attempt, by the voters, to undo the mistake of 2016. The only reason the House can contemplate impeaching Trump is that there is a Democratic majority. That happened in 2018.
#
Maybe old
Lindsey Graham
was playing a funny game, becoming Trump's little buddy, visibly, so when the time came to kick Trump under the bus he could play the Barry Goldwater role.
#
I just re-read George Orwell's
Animal Farm
. I had read it when I was in grade school. It's worth reading again in the age of Trump, because he's using the propoganda techniques of Animal Farm.
#
I hadn't thought about the
implications
of the
Brooklyn Nets
being owned by a
co-founder
of Alibaba who has to get along with the Chinese government more than most NBA owners. I wonder how
KD
and
Kyrie
will feel about that.
#

If you love
Succession
and are all caught up, I highly recommend going back and watching season 1 again. So much of what happens and what's said went over my head the first time. And there are forward references you couldn't have caught the first time through. Watch it with captioning on, that helps too. Also it's a comedy with the skeleton of a tragedy. I found myself laughing out loud at times as if it were
Monty Python
.
😆
#