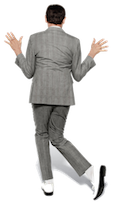 I'm a member
of
The John Lennon School of
Revolution
. "If you want money for people with minds that hate, all I can tell is brother you have to wait."
#
I'm also a proud boomer, and member of The Grateful Dead Party.
Our anthem
. Wave that flag, wave it high and wide!
#
Brilliant tweet
. When journalists ask how Warren will pay for something she should say Mexico will pay for it.
#
As a newbie in town, I have basic questions like where to shop for
groceries
, ride the
bike
, look at the
stars
, which
airport
to fly out of -- really basic stuff. I usually post the question in the private Facebook group for the town. I keep an
outline
of some, not all of the questions and the best advice,
on this.how
. It's for things that aren't blog posts, stories I want to come back to, edit, refine, add to.
#
Did a little prototyping for the
tweetsucker
project I wrote
about
the other day, and noted that the Twitter API
toolkit
that I use is now marked as not maintained. It still works, but It seems this is something Twitter ought to maintain, or pay someone to maintain. Letting this fall out of sync with the actual API wouldn't be very good.
#

I couldn't bring myself to watch the Knicks game last night with the Mavericks with their new star, and former Knick, Kristaps Porzingas, who for a few years was the embodiment of hope for the team. I was sure the Knicks would be blown away. What a surprise to wake up to find out
the Knicks won.
I don't think anyone was humiliated, but there's a sadness when you realize how great the team could be now if KP hadn't demanded a trade, had found a way to work with the Knicks.
#
Not sure if
this photo
is real. It's supposed to be a 2008 picture of Rudy Giuliani, Donald Trump, Michael Bloomberg and Bill Clinton. The only thing that would make it better is if Jeffrey Epstein were
photobombing
.
💥
#