For crying out loud it's what, December already? What the..
#
There's no doubt we have crossed the
tipping point
in the climate crisis. Part of the equation is politics. We're not only not doing anything to halt the crisis, we're accelerating it.
#
We need a channel for organizing more than we need horse race news and Watergate.
#
Watched a bit of the Sunday news, and listened to NPR. Lots of Republican lies. Enough with the news that gives more than half the time to lies to keep less than half the population in line. We're deep in a hole, and need a landslide in next year's election to have any hope of turning things around. The press as usual has a bias toward keeping everything disorganized because that gives them the horse race, one of two stories they know how to cover. (The other is Watergate.)
#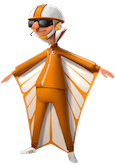 I have no interest in the current
crop
of superhero movies, but I would see a movie starring Warren Buffett, Bill Gates and Jeff Bezos, as
superheroes with their money
. They would have to wear outfits and have interesting names and powers. Bezos would be the guy who can get anything delivered to you when you want it. Not sure what Gates' superpower would be. It would be a lot like
Idiocracy
. This movie would anticipate the future of the species when the evolution we're currently going through has run its course.
#