I had to run errands into Kingston just now and heard
Gov Cuomo's
press conference
. He is masterful. I feel like there's someone in charge who knows what to do and is doing it. I feel lucky to live in New York State, wish we had something approaching that kind of leadership in Washington.
#
Now I wish there were a podcast feed for his press conferences so I could listen to them asynchronously. I won't always be able to listen when they're happening. Maybe this is something WNYC or the NY Times could do? Betaworks?
#
Rachel Maddow cried at the end of her show last night. I assume for her colleague, a man about my age, who died of CV. But it meant something personal to each of us. I saw it as her crying for the end of America. Reagan was right, government is the problem. But not the way Reagan meant it. I don't know what goes through the minds of the Republicans in Washington, I can't find a bottom to their depravity. It's possible they're masochists. They feel they, and we, deserve to die.
#
There's a ticking time bomb. The people who don't have health insurance and don't have savings or a job and aren't part of the stimulus, these people are going to be broke, hungry, homeless and sick. And on CNN they're talking about Trump's racist tweets.
#
Most times we can convince ourselves that in the immediate future: 1. We will remain alive and well. 2. Our friends and family will too. What's so unsettling about the moment: Now we know that either, we will be sick or die, or some of our friends and family will. I think that's why we are all reaching out to our friends now, and re-establishing the connection, because we want to hold them close so they don't leave us. It's a good thing. In this week's
Radio Open Source
, at the end, Andrew Sullivan talks about that re AIDS, which he experienced as a gay man in the 80s and 90s. I experienced it as a man with a fatally sick heart in the 00s. After being fixed, I felt like I wanted to die. Weird, right? But real. We call the first feeling "normal." Over time, this will become normal. Then at some point, if we survive, a vaccine or treatment will come about. And we'll go through the unsettled feeling again.
#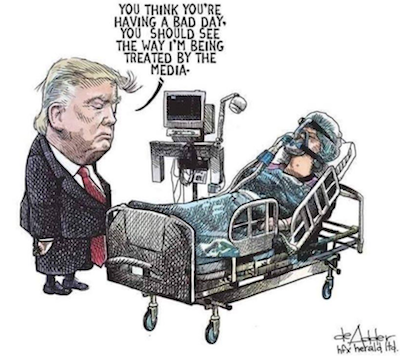 Trump's depravity has no limit.
#