We can't wait until
2021
for Trump to leave office. Too many Americans will die needlessly. I don't want to be one of them, do you?
#
A new thread. Pornography of the future. We will watch movies of beautiful happy people in social settings with other beautiful happy people, exchanging in-person conversation, experiencing exotic smells and waves of oxytocin. Multitudes of beautiful, interesting and happy people wander by, exchanging knowing glances and suggestive smiles. No one is wearing a mask. Their faces are literally naked. In public. Naked. Va va voom.
#
The Cuomo briefing podcast is now available in the
iTunes store
. And of course it's available
via RSS
. Tell your friends.
#
When I sit down at a
lovely dinner
, with interesting, humor-filled friends in a beautiful spot, I am as rich as I can possibly be. A billionaire couldn't have more. I first realized this at a sushi restaurant in Sausalito, where the chef had prepared the most amazing looking and tasting
bouquet
of fresh fish and rice. Literally this is as rich as you can get.
#

I'd like to see one of the cable channels continue their regular broadcast without airing The Trump Show every night. It's very bad for our country, in the spirit of
Jon Stewart's appeal
to the Crossfire guys so many years ago. They never did help us, and now
thousands of Americans are dying.
What will it take to wake the owners of the networks up. And the people, why are you watching this deadly animal garbage? Don't you get it? If you didn't watch they wouldn't broadcast. Don't you care about your own lives?
#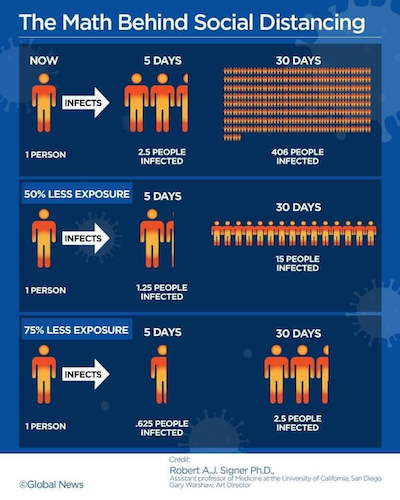 The math behind social distancing.
#