Good morning fans of great weather in the NY area.
#

I have a great birthday. I admit it. I know people who were born in the summer, so school was out when they celebrated. Or people who were born in the days after Christmas, when everyone is all finished celebrating. I was born on a day where it's beautiful weather pretty much everywhere I've lived. And school was in session and every year my mom would send me in with a box of frosted cupcakes for all the kids. So everyone had a party. And today is a special birthday, the big 65. I'm now officially old in every way. Also, now, for the first time, I get real health care. It took a couple of months of research to figure it out, but I now have a Medicare card. I also bought a Medicare Advantage plan, so pretty much everything is covered. And where my health insurance, when I've been able to get it, has been outrageously expensive, I now pay less than $100 a month for excellent coverage. Thank you
LBJ
and the Democratic congress of the 1960s. I haven't usually written about this day on my blog, but this year has a big WTF element to it. Who cares. I'm still here, so that's something. And as they say -- still diggin! At least for now.
💥
#
I wonder if any reporters are investigating where the
PPE
that the government is stealing is going.
#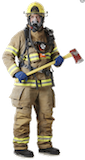 On March 12, I
pointed
to the day's Daily podcast with
Donald McNeil
from the NYT re "the tragedy of America's non-response to the virus." I just listened to an
episode
of Fresh Air from
this week,
in late April, with McNeil telling
exactly the same story
about how we're not fighting the virus, the same story he told in March. I could finish his sentences. The interviewer asks the same dumb questions they all do, when will the lockdown end, what will it be like when we resume life. The frustration McNeil feels, and I feel, having heard the same story at least four times, the questions assume that all we have to do is
penance
, stay home for a while, and we will be able to go back to normal, having done our time. This is what Trump seems to think too, and the other Repubs. Maybe some Dems. That's not it.
#
Isolating is like plowing a fire line in the middle of a city being inundated by fire. It slows the spread. But you don't get to resume life, a very altered life, until there are no new cases, until the fire is out. Until you've shut down transmission of the disease. This is not a punishment, it's how we save ourselves.
#
I've heard it said of countries like South Korea, Singapore, Taiwan and Vietnam that they had a bad experiences with H1N1 or swine flu, and didn't want to repeat it with Coronavirus. Their people had experienced a pandemic, and therefore motivated to believe there was a problem before there were massive infections. This is why imho it's been so bad in the US, this is our first experience with such a bad virus since 1918. No one alive remembers it.
#
I think the government here feels accountable to the people and is especially sensitive to widespread public concerns about health and safety. The problem was taken seriously very early, and it was handled with respect for science. They deferred to scientists and health professionals and placed health and safety ahead of short-term economic setbacks. Vietnam is an up-and-comer and has experienced very consistent and seemingly unstoppable economic growth. While the coronavirus' economic impact is a massive setback, it does not change the fundamental long-term outlook for growth and prosperity.#