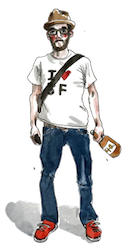 If I were running an American news org, and I saw the CDC being silenced by the government, I'd boot up the equivalent of the CDC as part of my news org. I'd hire former CDC officials and tell them to say what they'd say if they were still at the CDC. Big budget.
#savemylife
#
What Trump is doing now is worse than dropping an atomic bomb on the US. That's how it should be reported on the news. We need some scientists we trust to say that and to make that the news. Because it is the news.
#
What can be gleaned from
Thighland
and
Yo Semite
. Trump has a reading comprehension level of a child.
#
In hindsight it seems like this was an especially bad time for the UK to withdraw from the EU.
#
If it quickly incapacitates or kills most of them, they can't easily pass on the infection, so the virus grows slowly. Ebola is like that. #
If it kills none of them, and if they don't get symptoms, they just go on as normal, everyone gets infected and the virus dies quickly, running out of targets to infect. #
The worst case is if the virus, when it infects people, has few symptoms at first, and a relatively long incubation, like Covid-19. #