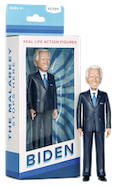 This week's
Joe Trippi podcast
is a must-listen. He says the Senate Republicans are playing Trump. They need him to win the
Georgia runoffs
on January 5. Trippi has experience managing (and winning) the
Doug Jones
special election in Alabama in 2017 and thinks turnout in the Georgia runoff may be similar (ie much lower than on November 3). Democratic turnout will be managed ably by
Stacey Abrams
. Trippi says the
letter
Loeffler and Perdue sent to the Georgia secretary of state demanding he resign was primarily for Trump, look boss we're carrying your water, come campaign for us! Once the runoff is done, the story goes, they will dump Trump and turn to the Biden inauguration. If they lose in Georgia, they become the minority party, and McConnell et al don't want that. Pretty amazing how depraved these Republican senators are, if Trippi is right, and I suspect he is. All for two years in the majority, obstructing the recovery from the virus.
#
I asked Michael Hunt about the status of the
Woodstock Library
bond issue. "Down by 80 votes but over 1000 absentees to count by November 17. We won early voting by 10 points (55% to 45%) but got clobbered on Election Day. I think absentees could look like early voting. It will be a nailbiter but it ain't over."
#

Elissa Slotkin (D-MI)
: "You know, the one thing I will say about Donald Trump. He doesn't talk down to anybody. He is who he is, but he doesn't talk down to anyone. And I think that there is a certain voter out there because of that who identifies with him and appreciates him."
#
The reason to vote Democratic in Georgia in the runoff is to save your life.
#
Surprising to learn the Republican Party is not corrupt to the core. Republican Secretaries of State at least
sound
like high integrity professionals who are committed to a full and accurate vote. And it's wonderful to know that voting still works in the USA.
#
Tommy Williams
: "Even here in Montana, where the vote went red up and down the board for probably the first time ever, our Secretary of State,
Corey Stapleton
, told President Trump to concede on Nov 7."
#
Before you hit Send on a reply, check what you said, and if you're talking down to the other person, think again.
#