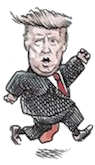 Last night's emails went out this morning. Still diggin. We'll try to get back on schedule tonight.
#
I don't see how we get out of this escalating shitshow with the Repubs and the election (still!) and the virus. And something else is going to blow up soon. It can't just be these two catastrophes. This country may not have a path forward.
#
Tim Wu
: "What saved the Republic from Trump an informal and unofficial set of institutional norms upheld by federal prosecutors, military officers and state elections officials."
#
Legal experts
say
the
AG of Texas case
against
the swing states is ridiculous, a total non-starter. But legal experts aren't the only ones with an opinion. Ask the
Secretary of State of Michigan
about the armed protestors outside her house. How well-protected are the members of the Supreme Court? Whatever convinced all those governors to get on board might work for them too.
#

Why I need a
JavaScript-like scripting language
. I had a bug in a script I use to backup various files from my blog in a
GitHub repository
. It was simple enough to fix, but the script stopped working 27 days ago, so now I have a hole in my repo with all the missing days. This is the kind of problem you solve with a scripting language. Doing this in standard JS is going to be a pain in the ass. But I'll do it because I care. But things could be so much better.
#
Code should look like what it does. Languages could make it easier.
#
Why don't they sell small pickup trucks in the US.
#