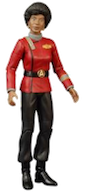 A long time ago my friend
Doc Searls
and I agreed that you don't make money
from
a blog or podcast, but you can make money
because of
a blog or podcast. It's a subtle but important difference.
#
They have so many awards for journalism, why don't we have anti-awards, for acts of great cowardice, hubris or greed, at the expense of the public. It probably would do more good than the other kind of awards.
#
I can see how the second
impeachment trial
could backfire. Trump has been obscured, pushed to the side. He used to be the focus of everyone's attention, but now it feels like years ago that he was a menace. The trauma could be substantial. On the other hand, it has to be done.
#
I often am asked to invite people to
Clubhouse
because I've written so much about it. To invite people you have to share your contacts with them. I'm not willing to do that, so I can't invite anyone. You have to find someone who is ok with sharing their contacts.
#
McNeil's statement
: "I was asked at a dinner by a student whether I thought a classmate of hers should have been suspended for a video she had made as a 12-year-old in which she used a racial slur. To understand what was in the video, I asked if she had called someone else the slur or whether she was rapping or quoting a book title. In asking the question, I used the slur itself. I should not have done that. Originally, I thought the context in which I used this ugly word could be defended. I now realize that it cannot. It is deeply offensive and hurtful. The fact that I even thought I could defend it itself showed extraordinarily bad judgment. For that I apologize."
#
Look at all the pockets!

#