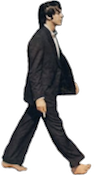 The best platforms are ones with lots of users. For example, the Finder on the Mac needs a simple scripting language. Starting with Lotus 1-2-3, spreadsheets had macro languages. Programmable editors are popular because writers love to get their writing environment just-so. The theory of Frontier was to pour lots of attention into the scripting language, and make it work across all apps. We did a pretty fair job. It didn't get as much attention as it deserved because Apple got in the way. We shouldn't give up on this ideal. It's still possible.
#
Today is the first time I've lived in a place where
weed
became legal, on the day
it happened
. I've been to places where it is legal (Calif, WA, Colorado, Mass to name a few). It's one of those "did you ever think you'd live to see it" days. Weird that tomorrow is April 1.
#
Highly recommend
The Making of Sgt Pepper
. Interviews with George Martin, the three surviving Beatles (in the early 90s). Many others. This album was the turning point from the Beatles being a touring phenom, to pioneering a new creative direction for pop music. It's inspiring, we need a similar turn in software. (It's also available
on Facebook
if that works better.)
#