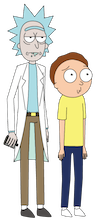 I'd say
BingeWorthy
didn't work.
Nice software
, but the goal was to keep an easy to find
public list
of shows I recommend, and those that my friends recommend. A couple of weeks ago I discovered, entirely on my own,
Rick and Morty
. I loved it from the first scene in the first epsiode. I started telling everyone I know how great it is, and with few exceptions they said "old news Dave." They loved the show since it started in
2013
. Why did I struggle for years to find something great to watch when Rick and Morty was out there. I'm sure there are a dozen other delicious shows I don't know about, and it's only getting worse. What is the answer? It seems like a simple problem to solve, yet it evades an answer.
#
They've had the same tired old guests on the cable news shows for years. They always say the same things. How is it that people don't just change channels and tune into 30-year-old Law & Order reruns instead. I've been enjoying watching the reruns for the 15th time. Compared to the news they seem fresh and strangely relevant.
#
When you check into Twitter after being gone for a while, you see, for an instant, some posts, not sure when they're from, but they might be appealing, but too bad, they disappear just after your mind registers that they're there. Happens regularly.
#
The remains of
Tropical Storm Henri
has been parked overhead for about 24 hours. Pouring rain, hour after hour. Not much wind. I couldn't go riding yesterday, and probably won't be able to today either. Tomorrow should be hot and humid, good swimming weather.
😄
#
Remember how
Reagan said
government is the problem. He was wrong, it's actually journalism.
#