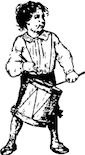 Am I passionate about the idea of a
modular newsletter system
so writers can use the best editor, the one that fits them best, the one they've been using for decades? Yes, I am. I'll keep beating the drum. I won't stop. That's how I am until I get what I want.
😄
#
When will someone launch a newsletter service that lets you use whatever editor you like. I predict that I will support that product in the new editor I'm working on. I don't want to do a newsletter service myself. Let's get something fun started.
#
What makes a bug report good? It makes it easy for the dev to reproduce the problem. I have to see it myself to understand what the problem is. Your theory on what the problem is, or judgment on whether you followed the instructions is secondary.
#
Unfortunately journalists don't stand for re-election. They are not term-limited. There is no journalism for journalism. Our opinions are not sought. But if we ever do get a chance to vote one of them out in some significant way, I bet a lot of people will line up to do it. I know I will. And I'm not talking about the people on Fox.
#