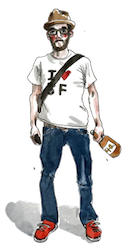 One reason to not speak ill of the dead is that they might have not liked you. There may be other reasons. I think that also goes for damning with faint praise. If you had an issue with someone who died, you can afford to relax about it, after all you won.
😄
#
Have you ever seen an
RSS
feed where the <description> text was
Markdown
? Probably not, because few if any of the readers would understand it. We could start this as a bootstrap later this summer.
#
BTW -- is it a coincidence that Evan Williams stepped aside at Medium as Twitter, which he co-founded, is without a leader?
#
I think the person who runs Twitter should have a sense of humor and love good entertainment. There's so much potential in this medium, that's just been left there for everyone to figure out. Which is great, except there's been little or no coordination with the tech.
#
Twitter appears to be down this morning. I have no idea what to do with myself. Clicking the Twitter icon in my browser's chrome is an unconscious thing. Only when Twitter is down do I really feel it. Amazing that Twitter can't find a way to monetize that. (At 9:20AM Eastern it's back up. Whew.)
#

Important fix
for the
reallySimple
package. When reading a feed with items which have guids that are not permalinks, there was a serious bug where the guid that was there would be replaced with
undefined
. If the guid was a permalink that would mask the problem. I finally encountered a feed that had guids that were not permalinks. The fix is to add a new
permalink
sub-item. I know that not many people are following this, but I'm pretty sure you will, eventually.
💥
#