They are wrong
when they say Biden shouldn't have had two Marines behind him. Because the Marines
are
behind him. He is the commander in chief of the US military, in addition to all the other things he is.
#

As part of a discussion about
Teslas
vs
ICE
cars,
Povl Aage says
: "New ICE cars are incredibly reliable, mature tech. Still lots of kinks to work out for the new EV platforms."
I responded
: "Not sure which kinks you're talking about, but my
Tesla
as a car works flawlessly. The computer system can be pretty
fucked up
, the same way Macs are because Tesla did more than make an EV. I also have a ICE, a relatively new
Subaru
and as you say it's incredibly reliable too. That said, I never drive the Subaru. It's sitting there waiting for winter, my thought is that it might work better in the snow than the Tesla. But I literally never drive it because the Tesla is so much more fun to drive."
#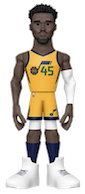 I'm glad the Knicks passed on
Donovan Mitchell
. Instead they'll groom their own superstars. There are so many good young prospects already playing for the Knicks. Quickley, Toppin, Grimes, RJ, Sims. This is team, the one they already have, is worth being patient for. And the current Knicks management, by hanging tough, remains a powerhouse for future deals and there will be more deals. Mitchell is a fine player, but far from the only one.
#