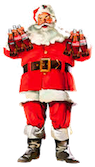 My eyes keep getting better. I have 20-20 vision for the first time in my life. Seeing so much more in a lot of ways. I told a friend today it's like I have Tesla eyes. I know people don't like Tesla these days, but I still feel like it's a privilege to drive my Model Y every time, even though I've been driving it for over a year now. It's a feeling of able-ness no car has ever given me. And that's the feeling my new eyes give me. I've been dis-abled seriously for years now. And my vision never really worked, even when I was a kid. I remember getting glasses for teh first time in second or third grade. I never knew there was so much writing in the world, everywhere. It's like that except at an age where such discoveries are pretty rare. I think this experience will fade away as my new eyesight becomes the norm, but for now, it's given me a new youth-like experience, pretty cool.
#
WordPress has a feed reader built-in and a plugin that displays feed items in the right margin of a blog's home page. It uses the [No Title] approach. Please if it doesn't have a title, just leave it blank. Here's a
website
that illustrates, and a
screen shot
.
#
A fact I've observed. Most programmers who work on web content systems not only aren't writers, they don't make an effort to know or understand writers. The really good products, the ones writers like to use are not surprisingly written and designed by programmers who are also writers. But -- listening to writers is something programmers
can
learn how to do.
#
Never display NO TITLE. It's not a good use of your space, the reader's time and it's wrong. The author didn't use those words. They're your words. You don't have a right to put your words in space reserved for the words from feeds. #
Instead display the first words from the description element of the item where you would put the title. If there are too many words, flow them into the space you've allocated for the description, but do not repeat words from the description. Again, you'd displaying something that isn't in the feed. The author did not repeat the words, so you can't do that. #