An idea for an app. Make a list of all the places you've lived, schools went to, restaurants you loved, hated, movies, books, places you've visited. Then you're at a conference or reunion, and the app starts vibrating when you're standing near someone who also uses the app who has something significant and interesting that matches your profile. Take out your phone and it says what it is. You can swipe left or right or ignore it. If you both swipe right, your phones start playing a Peter Gabriel song (the same
one
) and you know you can have an interesting conversation with this person.
#
I have Spectrum cable, only because it's the only way to get Knicks and Mets games. Otherwise I'd go back to YouTube TV, I like it better. Less money too. And now Disney has disconnected from Spectrum, taking ESPN with, it would a great time for everything to decouple and let's
redo the whole thing
. I'm wasting so much money just for two channels and so are a lot of other people.
#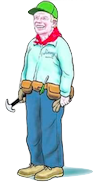 BTW, I learned that two of my colleagues from early Berkman are regular readers of this blog,
Chris Lydon
and
Ethan Zuckerman
. Maybe they have some ideas how we might bootstrap an online
Old School Berkman
on the open web, probably using something like blogs I imagine, and giving users choice as to what tools they use to read and write the stuff. Kind of like podcasting but for text. I would totally use an outliner for everything, but it should be wide open for any kind of tool anyone wants to build and/or use. Just an idea. Someday we will use such a system, I hope. Not federated, but small pieces loosely joined.
#
I do not keep up with who is or isn't
subscribed
to nightly email. I deliberately don't want to know.
#
BTW, it was pointed out that
yesterday's post
with my first notes from the BKC 25th reunion failed to say what
BKC
is.
It's a research center that started 25 years ago at Harvard Law School with a charter to do entrepreneurial internet-related projects.
#
What a huge loss for the human species that a monstrous company like Facebook controls a wonderful social network like Facebook.
#
As you know, I went to a conference this week with lots of web thinkers, people I worked with 20 years ago. And after listening to them about the state of social networks, this is what I've come up with.#