Quick idea: What if we gave up too soon on the idea of
Sources Go Direct
being a legit way to report and distribute news?
#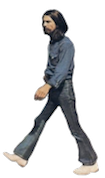 One of these new twitter-like services should specialize in hooking up with blogs. A chat system for bloggers? Threads hanging off each post? Cross-linking? Let's have long and short form work really well together. I know all about the technology that will make this possible, but what's important is that it's a process, not an event. We should start working on this now and keep working on it for years.
#
I need a free or almost free service where I can
quickly
create an email address that's forwarded to my Gmail account, to create all the Bluesky accounts I need to. Any ideas? Also I have created a
new account
for
Thread Writer for Bluesky
.
#
I've created a lot of Gmail accounts over the years, but I don't remember what most of them are! I thought I could
ask Bard
, with its new interface to Gmail to give me the list, but either I don't know how to ask the question, or it's not ready with that kind of data? No matter what, we're in very early days for this. Also I think Google should spin off its AI stuff, they're too much of a monopoly to monopolize this. Yes, I can hold all these ideas in my head at the same time, you can too. :-)
#
A nerd in a Wisconsin baseball cap throws out the first pitch at Shea Stadium.

#