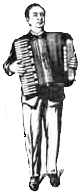 I spent the last couple of days creating an installable scripting2.root, with a howto. That's the software I use to edit this weblog and produce all the feeds.

The sites are fully baked, meaning they can be hosted anywhere. It's set up to, by default, host sites on Amazon S3.

One of the things I tripped over while testing the release is some code I forgot I had written. It manages a file that's what I think of as JSONified RSS. It's the feed for Scripting News rendered as JSON.

From this, I believe you could create a JavaScript browser for this kind of website. Not sure, but I think it could be interesting.

My dream would be to have the Readability guys take a shot at this. Or Flipboard. Hmmm.


PS: The server you get with EC2-for-Poets will run scripting2.root just fine. The pieces are starting to fit together real nice.