Update: I got it to work. Posted a comment explaining.

I got a DCS-932L.

Have had no success setting this sucker up.

I just want to get it working on wireless, and have it shoot a picture once a minute to a dropbox folder.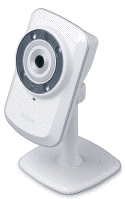 I want to start a Reduced User Interface movement. Just give me the mininum of what you must, and make sure a wireless device works with the most popular routers, out of the box, with nothing to do.

And make it totally ridiculously foolproof to enter the wifi username and password. These guys use a very odd combination of Java applets, and Java just isn't well supported these days by Mac and Windows.

I had the best results using Firefox 3 on an Asus netbook. I couldn't connect to the webcam visually with any of my Macs. The iPhone app worked. The Android app didn't.

But the web server built into the device won't under any circumstances let me through the Basic Auth dialog. I have no idea what's on the other side of that barrier, I hope something lets you enter the wifi username and password. That is where I am stuck.

This product is just a come-on to get you hooked into their mydlink website. That's the Java thing. What a mess.

I have generally had good luck with D-LINK devices, but there seems to be a new software regime now. Where they used to have kind of frumpish HTML 4 websites (that worked great) they now have Taiwanese-looking Java applets with bad English, and it doesn't work. So you get the worst of both worlds. A retro look that's a bad parody of All Your Base that's broken.

I'm probably going to return this.