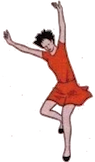 Yesterday I wrote
briefly
about new social graphs. Here's the background. For a long time, years, to get engagement with smart people on my writing, I had to cross-post to Twitter or Facebook, and at times Medium. This never worked well, there were limits to their APIs or format (character limits on Twitter, for example). Following the Cambridge Analytica mess, Facebook shut down their API so cross-posting was no longer possible. But now, I'm getting engagement, like I did in the
early years
, on my blog,
without going through a silo.
This conversation, the one we're having right now, is part of a new social graph. Nothing long-term about it, it's already here. Now the question is what's the next step. The email connection works. (To people who are only following in the
RSS feed
, I recommend trying the
nightly email
. It feels different. For example, if you reply, I will see it. That doesn't happen in RSS.)
#
Michael Calore
: "I'm reading your words every day again, just like 15 years ago. Email is the new RSS.
#
How permalinks work on Scripting News. There's a simple feature in my blog that makes it easy to point to a specific item. If you look at the end of any post you'll
see four icons
. The first, a "purple pound sign," is
a
link to the item. When you click it, the browser opens the page, with that post at the top. That's the best link to send to friends.
#
I have a feeling Trump may have wanted a kickback -- you get the $250 million, then pay me 10% to put my name on a building in Kiev.
#

The human species has been on a drive to growth from the beginning. The way to survive was to have lots of kids to insure that some would survive to reproduce, thereby continuing our own DNA and insuring the survival of the species. Until the advent of
medicine
and mass production of fossil fuel, and other
forms
of
civilization
, we were in balance with nature. But some time in the last hundred years the balance flipped, growth skyrocketed, and processes were set in motion that got us to today's climate crisis. Problem is that we, as a species, haven't evolved, our evolution-driven goals haven't changed, we still think having more children is a virtue, and that it's our right, even obligation, to consume more. Reversing that is not a simple matter (that's generous, in my heart I don't think it's even possible), and the problem was not created by one or two generations, as some of the young folk believe. The problem is with the nature of our species, the traits that evolution reinforced are the ones that are leading us off the climate cliff. So when I listen to
Greta's
speech, she isn't speaking just for her generation, she's speaking for mine too, and for my parents, who are gone. My
mother
, who died in 2018, was passionate about consuming less. Greta would have liked her, I think. Yes we knew we were going off a cliff, even people who say they aren't sure, they knew too. But turning the ship around isn't something you decide to do. We each can do it ourselves, but that won't make a difference. I don't have the answers, but I know for certain that blaming today's adults for the future that today's children face is wrong. Making other people the symbol of our grief for our species is typically human, and pointless.
#