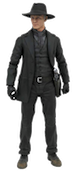 For 3+ years reporters won't cross the line re Trump and Russia. Every story ends with the same puzzle. Why does Trump love Russia? We don't know. We just don't know. It's like the line in
Harry Met Sally
where
Carrie Fisher
says "He'll never leave her, I know, I know he'll never leave her." Everyone says it at some point. We can recite it along with them. "No one thinks he'll ever leave her," says Meg Ryan. At some point you hope she gets the clue. Everyone but the reporters knows why Trump loves Russia. At some point it would be useful if the reporters would just use it in their reporting.
#
32 million people
are going to fly in the US this week. Want to help fight the climate crisis? Stay home.
💥
#
Political ad
seen
on highway in Salt Lake City via NakedJen. What a great idea. Be sure to read
the story
.
#

Everything is subject to humor. Yes there must be lines, don't joke about things people have no control over, as in body shaming. But if we can't laugh at ourselves and our foibles, well what's the point of living. We are really small and live infinitesimally short lives. That's the big joke connecting all the individual ones. We don't really matter in the end. If you've ever had someone you're close to die, you know that truth. We're only here for the moment, so
let's have fun.
#