On this day we learned that
Apple
apparently stopped allowing users to add their own
RSS
feeds to their News platform. I guess this is inline with the way they vet apps for iPhones. Can't let any random ideas get to iPhone users. Best to be safe. Perhaps to keep China happy? Not kidding. Tech companies ultimately have to yield to authoritarian countries, where they keep strict control on what the people can read.
Russia
can now disconnect their country's net off the world wide net. Losing a news platform like this is dangerous to freedom, pretty much everywhere. Best not to trust them with our flow of information, so use another news platform on their phones, and use other non-Apple podcatchers.
#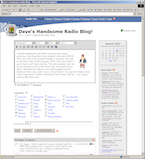 BTW, for reference, here's a
screen shot
of the home page for Radio. See where we put the place to enter a new post? Right in the middle of the top page. The easiest place to get back to. See the menu at the top of the page. It's the same menu on
every
page. It gets you to the full functionality which included (in 2002) an RSS feed reader. How did we get there? Factoring. Over and over. Until it was logically organized for the person who we were designing it for. Full functionality doesn't have to be a maze for users, if you put the effort in.
#
Andrew Sullivan
outlines
the roadmap for the Democratic candidate in 2020. Make Americans feel great about America again.
#
Every time I write about what's missing in blogging software, as I did a few days ago, someone tells me about Gutenberg, and how that's the solution to the problem I've identified. #
I've never used Gutenberg, so I want to keep an open mind, even though I'm pretty sure that Gutenberg, even if it's great, is not the answer to the problem I keep seeing with WordPress, have been seeing since its inception. The problem is flow. Let me explain.#
I have an idea for a post. How many steps is it before I'm writing what I'm thinking. The more steps, and the less memorable they are, the more likely it is that I will either forget the idea before I start writing, or decide not to detour because it takes too much time to record it. #
OK, that's the preamble, now let me record the steps that I have to take to create a new post in WordPress. I disclaim I am far from an everyday WordPress user. But I have posted a lot of stuff to various WordPress blogs over the years. I am not a neophyte. #
If you accept the premise that publishing a post is the Hello World of blogging software, as I believe based on 25 years experience, there is a method to straigntening this out. You go through the list above and start eliminating steps, moving the New Post functionality closer and closer to the top and making it more obvious in every step. #
BTW, there is a very small Edit link on the published page, presumably I see it because I'm the author and am logged in. Clicking on it takes me to a page I've not seen before. A much nicer-looking post-editing page. I think this should be the home page of the editing function. But even this isn't Gutenberg apparently. There's a prompt at the bottom of the page asking me to try the new block editor to level up your layout. If this is the elusive Gutenberg, they might say so. If you're going to use that as its name publicly the software should use it too. And for crying out loud there is nothing for me to click to try the new block editor. I can get Info or learn more. I just want to try it. Help. #
So I click on the Learn more link and twice it confirms that I am ready to try Blocks. I have to convert the post it warns. OK, since it's just a test post, what the heck. First I have to page through a listicle-like tutorial. And when I get there damn if it doesn't look just like it did before. I don't know why this is so momentous. I'm going to come back to this in my next visit. #
Flow is the writer's problem for blogging. I have been working on this since I started in 1994. I solved the problem for myself in 1997, and ever since I've been working on solving it for everyone else. Had WordPress designers simply looked at Radio UserLand, shipped in 2002, and copied its menu structure, they would have a much better flowing blog platform and a reader interface as a central part of the product. But since then Facebook and Twitter have matched or bettered Radio in flow. There's a new benchmark. WordPress appears oblivious. So no I don't think Gutenberg, which is a new text editor for WordPress, is the answer. It is the answer to other problems, how to mix text and other elements in a blog post. Certainly a good thing to do. But WordPress imho remains the klunky monolith that it always has been. #
One more thing, you can do even better than moving the New Post command to the top of a klunky interface. You can move all the setup stuff off to the side and give the user a Facebook-like interface for writing posts. You could even make Gutenberg the default editor. The text editor imho was never the issue with WordPress -- for writers. Writers can make-do with almost anything there. But the flow from idea to idea is what writers really need. For that you should probably start with an outliner, study it, learn from it and adapt it to public writing. That's where imho the real juice is. #
But a good short step would be to build a Facebook-like interface for WordPress, working with the same database, so both the current and the writer's view work on the same data. Writers are important and for writers flow is everything, how easily can I get your software out of my way and flow my ideas into the minds of the readers. #