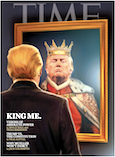 Podcast
: We feel in the United States that it always must be normal here. That's about to change in a very real way. Approx 10 minutes.
#
For a couple of hours today
this
is what appeared on the Scripting News home page. "A deadly virus is taking over the world and the United States doesn't have a government."
#
When there finally is a woman president, women won't feel like they own her, because everyone will feel that way. I know this because on
the day after
Election Day in 2008
, I felt like I had been liberated from a life of racism. How did he get me to feel that way?
#
Health insurance or not, billionaire or not, we're all in danger of dying from the virus. Much sooner than November. Some much more than others.
#
Finished season 2 of
The Expanse
. Yes! It is good. Sexy. And fun.
#
Has it occurred to you that the measures we're taking to fight the virus are also some of what we need to do to fight the climate crisis? If so, the idea that we're living in a simulation seems more plausible.
💥
#
Being president is a job. Hire someone who will be good at it. The choice is not made by the media or billionaires, it is made by voters. That's something to be proud of and celebrate, respect and preserve.
#
I'm still hoping for help testing the new version of LO2. Here is the
list of things you should try
. By testing, you're helping me think about bigger changes to the software in the future. If we don't test new versions, as a community, I can't take risks of breaking stuff. That's how it works.
#

The
Snooze for 30 Days
command on Facebook is great. Every network should have it. And guess what, when the timer expires, I forgot that I snoozed them, but they are still being obnoxious, so I just snooze them again. I'm soooo glad they can't tell when they've been snoozed. Oops I'm probably making all my friends think it's them. Trust me, it's not you. We're cool. Namaste.
#
We all live with grief and disappointment, btw.
#