Happy Mother's Day to my friends who are mothers.
#
I've been looking for this
video of Bill Barr
doing the polka dressed in a chicken suit. I would love to get the video in a form that doesn't depend on Facebook. Don't want to lose it again. (Be sure to turn the audio on.)
#
I'd bet money that the things that are "opening" now are going to be closed quickly at great cost to: 1. the economy, 2. human bodies and 3. morale.
#
Who would have guessed that drive-in movie theaters would become the new essential art and business form factor.
#
Why isn't there a Covid-19 game where you win by having your town not die before a treatment or vaccine is developed. When one of your citizens is infected you can isolate them for a bit and also do contact tracing. A mafia don in an orange jumpsuit shows up at random times and steals all your PPE! It'd be fun cause kids who master the game can explain it to their clueless Fox-watching parents and grandparents. They could even be part of the game!
#
Trump wants to
change the subject
to the Russian probe. I find this somewhat amazing. He got away with all the Russian michegas. But he wants to go back to it. Because as they say Covid-19 doesn't respond to his bullshit. We could learn from the virus. Don't take the
troll
bait.
#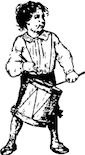 Just heard a report on NPR that began with a quote from Trump, a
big bold lie
, and they just went on as if he had made a good point. This has to stop. It's not saving my life, quite the contrary, it's killing people, to let Trump get away with lying about the role of testing. He says we have the highest numbers because we do the most testing. Yeah. Not true. And they went on to say that governors don't know why they need so much testing. What? Hello. Yes, everyone who cares knows. We need to know where the freaking virus is and isn't. That's why we test. It's the same reason we launch weather satellites, so we know where and when it's going to snow. I keep repeating this, hopefully the idea will spread. News should be in the business of saving my life and yours. It's never been more possible and more vital. And it's a good business model. If they're not just relaxing entertainment, if they
save my life
, we'll make sure they get the money they need. The news doesn't understand its own role.
#