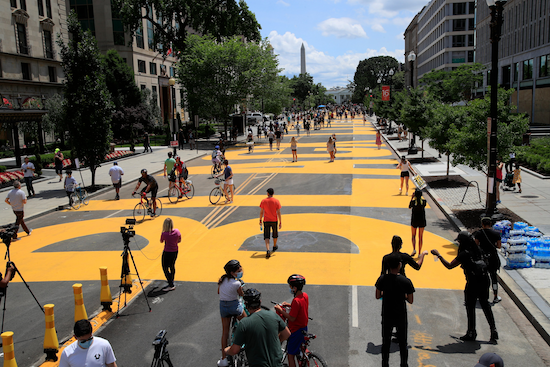 Every town in America should have a
Black Lives Matter
street.
#
Seriously, a guy who ignores the Constitution and gets away with it is going to have a real election? Is that what you think?
#
Maddow had a good point last night. If militia-like police are deployed by the government, without any identification, what's to stop civilians masquerading as police to start acting like government police? Maybe that's the point, if what you want is civil war.
#
I just cancelled my subscription to
The Athletic
. Congratulations,
they made it easy
. As a result I will consider resubscribing if my interest in sports is re-kindled. I will now add another pub to the two I still subscribe to. (NYT and WP.)
#
Watching the
Buffalo police shove
the tall 75-year-old man to the ground yesterday I was struck by two things. 1. If you put people with all the flaws of normal people in uniforms like that they're going to act like pigs. 2. Seeing an old white dude be almost killed that way was jarring, as an old white dude myself.
#
BTW in the video of the Buffalo police almost killing a 75-year-old man, what is
this police person
carrying? Looks like a machine gun.
#
We live in a world where the "tail wagging the dog" has gotten completely out of control in every way imaginable.
#
Alan Kay once said the Macintosh is the first computer worth criticizing. Really eloquent, makes-you-stop-and-think type quote. #
I was raised by parents who reacted as if criticism was an attack. If you don't deflect it, you will be hurt. They taught me that. I learned later in life that listening to criticism is the key to success. Alan Kay revealed a truth. We criticize something because we want it to be better. We are invested in it being better. Listen because you want to learn how to be better.#
In software, we call such critiques bug reports. Some problems only happen on the users' machines. Or you may have learned to not do something that they do because they never learned not to do it. Or they use features in a way you would never think to, that seem natural to them. Or they don't read the docs (and btw, neither do you). People see facets of your creation that you can't see because your point of view is different from theirs. If you want to improve, if you want to see things that are possible that are invisible to you, you must pay attention to criticism and brush aside the fear it invokes.#
In all mess around the Cotton op-ed -- to me, a lifetime reader, subscriber and former partner of the NY Times, someone with a complicated long-term relationship, the most important flaw in the pub that is its unwillingness to listen to criticism.#
So there's a huge hole in the perception of the NY Times of the world it is contained in, the point of view of their community. What a loss, for all of us. We are smart, educated, thoughtful people. We, collectively, know and see far more than the people they employ. #
This has been the opportunity of blogging and news -- a way to tap the minds of the world in a way that supports journalism. An opportunity news people gave up on before they even understood that the net gave it a new life. #
We need journalism to be much smarter than it is. We know a free source of smarts. Use it. #
PS: Also we have more money for you if you can listen. #