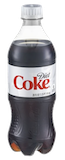 A
podcast
about the
View From Nowhere
, and how journalism has given up on it, and that's a good thing. I did this podcast as an adjunct to the piece,
below
, on packing the court.
#
Whenever you eat something with some mass to it, a big Diet Coke is great because it gets in underneath all that and moves it around. I don't know why that feels so good but it does.
#
If I had a column in a publication that people respected and read, my first piece would be about this. The power in the United States comes from the people. When we make everything about the parties and their personalities we lead the country to authoritarianism.
#
If Trump gives me any money to try to buy my vote, I'm going to give it all to Democratic candidates.
#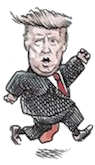 I hope Trump does his rally in Florida tomorrow. His supporters should see him in his all his
Captain Queeg
paranoia. Explaining the strawberries and how no one listens to him. Calling for a former president who many of them voted for to be put in jail, or perhaps worse. Maybe some of them will be shaken out of their entertainment stupor and realize this is the president of the United States, a formerly great country that is being flushed down the toilet because people in the middle of the country feel unappreciated, bored and purposeless.
#