A rite of passage. A few months ago I bought some
$250 headphones
from Apple. They were great. Today one of them fell out of my ear when I was taking off my mask, and disappeared into my jacket or the ether or whatever, but it's gone now. Oh well.
#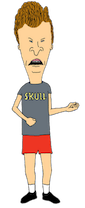 When I was in
high school
a bunch of us asked to be excused from class at the same time. We went to the bathroom and flushed all the toilets at once. We figured the plumbing system hadn't been designed for that. The moral of the story is our whole system is designed that way. The stock market, the political system, the police, health care, the national guard. With 300 million people in the US, we could overload and destroy any system on any day, by coordinated action. That we
don't
do it is a key feature of civilization.
#
I read on twitter earlier that women have feelings and men have opinions. I didn't respond because I would have gotten excoriated. This is the kind of bullshit you read on twitter all the time. I'd like to see this, gender hate, be made illegal. It kind of becomes a self-fulfilling prophecy when every time a male child shows emotion they're punished for it. And who is doing this regulating, creating such unhealthy beasts? A lot of times it's women, our mothers, aunts, friends, etc. Men are people, full people, with all the human features. When you present us as horrible inhuman beings you are doing the greatest harm.
#