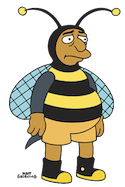 A bee flew into my mouth while I was riding my bike today. I quickly swatted it out of there, but I got stung anyway. That was 1/2 hour ago, and the swelling went down quickly. Whew good thing I didn't inhale the little fucker.
#
Everything we think is a new low in American governance is far from it. We were taught a lot of crap in school. The people whose egos were being protected are all long-dead. Was it worth it? No, of course not. It would have been much better if they taught the unvarnished truth.
#
I thought this would make an interesting
screen shot
. Each tab is an outline I have open in
Drummer
all the time. Every idea can be slotted into each of these. And sometimes they move from one to the other as they get more "done." Most but not all are calendar structured. People often ask how I use outliners, this is at one level, the answer.
#
I turned off Maddow last night as she was reporting a leak of software for elections. She left out the vital part of the story, was this the first time the software had leaked? If not, all it tells you is the people who are doing the "recount" in Arizona are bad people. This is not news. If they were new leaks, I doubt I'd be hearing about it first on Maddow.#
Come to think of it for all their breathess breaking stories, I can't remember Maddow ever cited by another news org as the source of a major story. Yet they often present their work as such.#
And the dishonesty when it comes to tech reporting, gives me an idea of how dishonest their other reporting must be. #