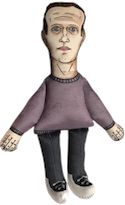 I
suggested
to
Mark Bernstein
at Eastgate that they could use Old School to
update a blog
from their hypertext software the same way it works in Drummer. He
asked
for more info. Here's the resulting
thread
.
#
I'd love to have an excellent connection between
Drummer
and GitHub via
scripting
. Scott Hanson and Kevin Tofel are having a
discussion
on how to get that started over the the RFC site.
#
Mark Sumner
: Voters observing Democrats: "Why hasn't the administration, Congress, or DOJ held anyone responsible for Jan. 6?" Democrats observing election results: "Why won't voters hold Republicans responsible for Jan. 6?"
#
Zuckerberg is proof that no matter how rich you get, no matter how huge your product and company get, you still just get a
human-size life
. We're all proof of that, btw -- but for most of us, no one ever thought we were anything more than a human being.
#

There was a lot of angst in my family when I was growing up. I guess a lot of families have it, but I think we had more than most because before my uncle and myself, we were the first in our family to be born in the US, everyone emigrated, running for their lives from the Nazis, and coming close to not making it. They were all survivors, and had traits of people with severe
PTSD
, untreated because this was the 60s and 70s, before they even knew such a thing existed in any formal treatable way. Anyway, I must've had a heavy family dream last night because I woke up feeling upset, unsettled, unloved -- all the feelings I knew very well in childhood.
#
Over the years I have been trying to find a magic connection to GitHub. It seems too good a resource to not use in some first class way. Here are a few of my GitHub reading and writing projects.#