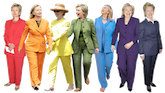 I'm sorry but your opinion doesn't matter very much, if at all. Nor does mine. Here's why I think that. Most of my relatives had strong opinions and stated them often and did not welcome dissent. My father and mother. Both grandfathers. My maternal grandmother. Uncle Ken. They all had opinions about everything. Sometimes they even changed their minds, to their credit. And one hid something about himself that I learned later from Wikipedia (amazingly my maternal grandfather was a communist, still not sure I believe it, Wikipedia is often full of misinfo). Anyway the point is that all the people I listed are now dead. If anyone cared about their opinions when they were alive (I don't think anyone did) they certainly don't care about them now. Soon enough you and I will be dead. So go ahead and have the opinions if it makes you happy. But if it makes you miserable, as it often did for my relatives, consider not bothering because simply does not matter. And the stupid thing is we've built our networks around the idea that opinions matter. Think of all the wasted bandwidth and server space. Maybe it'd be better if the AI bots win. At least they don't repeat themselves all the time with complaints about
graffiti
and whatnot. BTW I loved all the people I listed above even if I didn't enjoy their opinions very much.
#
If someone sends me an invite to Bluesky I will join. I have asked for an invite, but so far haven't gotten one.
#
It
happened
again
. On the radio, someone talking about Facebook and making a lot of sense. Usually on NPR they talk bullshit about Facebook. It was Cory Doctorow, who in my experience is an extreme <bleep>. Turns out he was covering up that he has a good mind. Nice to know.
#