Where will Apple, Amazon, Google meet up next year or the year after?

They're all going to be banks!

Why do you think Apple is piling up all that cash. It's a lot of cash for a consumer products company. But it is not so much cash for a bank.

Same with Google, and esp Amazon.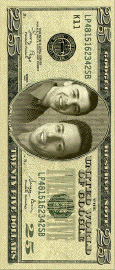 So now maybe that makes it clear why they want your real name on your Google-Plus accounts, and why they don't want to screw around with corporate presences. Not such a problem for publications like TechCrunch or Mashable, which don't move around a lot of money. But for any business like say an oil company (extreme example), they want to have all kinds of flows hooked up to your Google account.

Google plays a huge role today in defining value in Internet commerce. Google-Plus is their integrated communication system. Over time, it's going to be at the core of everything they do, from auctions, to paying for things with Android phones, to their groupon and yelp clones. They're going everywhere, and this is the system that will tie it all together. So, at the outset, of course they need real identities. That Google-Plus account you're playing with today is going to be your bank account next year.

Facebook moved the ball way down the field, but now all the other big tech companies have their clues. Not as if Amazon didn't already have a great way to get user involvement in the definition of value in commerce on the Internet. I can't go shopping at a real world retailer anymore without already having previously made my decision on Amazon. Maybe for a few things, it's still necessary to see them and feel them before buying. But the user product reviews on Amazon are the new standard. Google wants some of that action.

Don't kid yourself about art being part of this, it's not, in any way part of it. Or sociology. Or a "feel" for users. The big deal is who can make the money flow through their networks. And when it's all finished, what that looks like is closest to what we think of as a bank today.