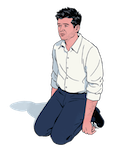 Never forget. Last year
one person
shot over 600 people in
Las Vegas
. It shouldn't be that easy for one person to shoot so many people.
#
There's a new element,
source:likes
in the
source
namespace. It appears in the
RSS feed
for Scripting News. Feed readers can use the server URL to form a Like icon for each item that integrates with other feed readers. Perhaps the beginning of a way to build connections between people who read a blog via various feed readers. Updated the
docs
for my Likes server to include a third
API
endpoint. I'm probably going to support this in River5 to complete the circle.
#
I fixed
Likes
for titled items. There
are
two
on this page. The counts show on home page and on the story page. They should agree.
🚀
#
I added notes about these changes in the
worknotes doc
for the Likes server.
#
I think Amy Klobuchar would be a great candidate for president in 2020. Her competence, coolness and good manners say everything I as an American would like to say to the world. She's young, but not too young. A liberal who presents as a moderate. Thoughtful. Doesn't shoot from the hip. #
Everything the current president is not. #
This is who we really are. #
If she wins, my pick for Attorney General would be Stacey Abrams. Like Sessions, from the South, but the South of today, not the south of the 1940s. Let's use the Democratic majorities to pass some strong updates to the Voting Rights Act, as a first priority. No more of the funny bullshit the Repubs have been doing to game the system. #
Secretary of Labor -- Sherrod Brown.#
Secretary of State -- John Kerry of course.#
Secretary of Defense -- Jim Mattis (a Dem tradition started by Obama).#
Speaker of the House -- Nancy Pelosi, if she'll have us.

💥

#
Today's project is adding a link to my Likes server to my RSS feed. That way feed readers if they were so inclined, could hook up all the readers of my blog to my Likes system. We'd have a nice little network for Liking stuff without Facebook in the middle. I find this is a very nice soft way of finding out who's reading my blog. Everyone is opt-in on everything. People want this from their blogs (Dries mentioned this yesterday) and everyone with a podcast wants to know who listened. The thing is to make it easy for people to share that bit of info, rather than extracting it without permission. It's the web way of doing tracking. I love this. Now if NPM would just get out of the way.

💥

#
I figured out what to do. I just copied the right file into the right spot in node_modules and voila it works. What a fucking egregious hack. The best kind. If NPM had worked as it was supposed to this is one of those IWTFT situations. #
IWTFT is an acronym for It Worked The First Time. #